'The whole world changed' : Australians helping rebuild earthquake-hit Nepal
Mountaineer Neill Johanson was guiding a group marking the centenary of Gallipoli to Everest base camp when, quite literally, the earth shook.
The Sydney architect said: "We had just finished commemorating that event when the whole world changed.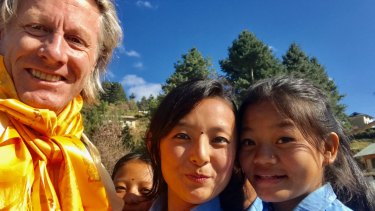 "You see it in movies. All the birds and horses go crazy and across the valley I could see this 6500-metre mountain range starting to sway like jelly. You could see the shockwave move through the range. The building that we had just come out of started to fall apart and the track that we had been walking on collapsed.
"We finally made our way to Lukla over a few days, which is where you fly out of, and that was the morgue. That was a very confronting and desperate place to be."
The April 2015 Nepal earthquake killed nearly 9000 people and injured nearly 22,000. It also destroyed thousands of houses and schools.
Mr Johanson had on several occasions bumped into New Zealand mountaineer Peter Hillary,  son of Sir Edmund Hillary, leading another team and they met again at the airport.
Back home they talked to discuss what they could do to help the rebuilding program. Mr Johanson, principal at Davenport Campbell, had, as it happened, built 30 schools in NSW as part of Kevin Rudd's 'education revolution' program to boost the economy.
One thing led to another and his company was assigned to rebuild a school in the remote village of Garma which had 350 students.
With other architects and the support of the Australian Himalayan Foundation, an international NGO based in Crows Nest,  they have built an earthquake-resilient school.
At the opening of the school last year he asked the headmaster if there was anything else needed. "What we really need is a community hall," was the answer.
A group raised $140,000 and with volunteers from the friends of the National Association of Women in Construction have just returned having completed the finishing touches to the community hall.
It has just been been approved by the Nepalese government and can be replicated elsewhere in Nepal, and more importantly, built by local labour.
Karen Locke of the Australian Himalayan Foundation said the organisation's role was as conduit to country partners to bring the best of Australian knowledge to the design and build.
"Hundreds of schools have been positively impacted by what we have been able to do," she said.
"It's not about going in, building something and returning. We have seen wonderful examples of how people have been upskilled in the region. Now it is the local teams that are leading the rebuild."
Volunteer Nellie O'Keeffe, a member of the National Association of Women in Construction, speaking before leaving Sydney for Nepal said she was expecting an adventure.
The senior development manager for Grocon said: "This is a different type of challenge. Through the volunteering process it's managed to raise a lot more awareness because we have branched out into all facets of the property industry. All of our employers have been really supportive giving us the time to go."
Source : smh.com.au